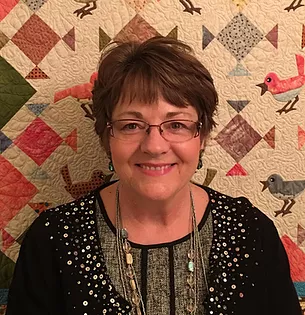 Nubin made her first quilt in 1979 while living in England, but didn't really start quilting until the late
1990's. After moving to Arizona in 2001, she began taking classes, dying fabric, and eventually designing
quilts and teaching classes. Designing went a step further with the purchase of her long arm in 2004,
with custom quilting for clientele not only in Arizona but throughout the United States. Her custom
quilting has appeared in various quilting magazines including American Quilter. Thoroughly Modern
Millie, a pattern designed by Nubin, was juried into an AQS show and was featured in one of their
videos.

Quilts have been entered into various categories since 2005, and each year her quilts have earned
numerous awards that include Best of Show, Best Appliqué, Judges Choice, 1st, 2nd, and 3rd ribbons.
Many of her custom quilting clients have also won awards and ribbons